The Experience
Create, Grow And Make Awesome Friends In Israel This Hanukkah!
The moment you'll arrive at the BIG IDEA camp, you will feel like you have stepped into a fairy tale. Everything you need for a perfect holiday is already there: the newest computer labs, an entertainment hall, a basketball court, elegant dorms and great scenery.
Mix technology with friends, boost your life skills, personal growth and make this vacation meaningful.
Passover camp offers three amazing workshop tracks: Programming and Minecraft Modding \ Performing Arts \ Photography and 3D Modeling
You will be able to choose the one that will make your camp experience amazing:
AI and Minecraft Modding : want to learn programming? creating games? creating worlds with no limits? In the Minecraft gaming lab we do it all! We will get to know the basics of programming and use them to create games within the Minecraft universe. There is no prior knowledge needed and no experience playing the game.
#programming #Minecraft #python #imagination #creating_worlds
Links to the workshops: Minecraft
Preforming Arts : A camp filled with Dancing and Drama! We'll have a first row ticket while you take on the Theater and Hip-Hop workshops. You'll undergo acting, improvisation and chirography sessions on your way to being a star. remember to smile to the camera when you'll star in the ending ceremony!
#beingAstar#dancing #theater
Links to the workshops: Theater and Hip-hop
Photography and 3D-Modeling : Every movie and every game includes 3D models. Now you too can become 3D artists! Learn how to create 3D models ion the computer, and how to add textures and colors to them. Will also learn about cameras, filters and lighting and get hands-on photography experience. At the end of camp you'll get one of your models printed in a 3D-printer and a developed copy of one of your photos.
#SayCheese #Cameras #3D-Models #3dPrinter
Links to the workshops: 3D-Modeling and Photography
During your week away from home you will develop independence, mutual respect and a feeling of capability. This is the place to be free, to be yourself and to smile 24/7.
The Dorms
After all the non-stop activities you will go through during the day, it is nice to relax in the evening at the comfortable dorms. Each room is also equipped with an AC unit.
There are 3-6 campers staying in each room, all from the same age group. Boys and girls live in separate dorms. During the day, while campers participate in their regular activities, the dorm buildings are locked.
There are always counselors supervising the dorms. Each floor has a staff room, available for campers 24 hours a day. In the evenings, during shower time, the counselors visit the rooms and lead fun games and activities, that help the campers get to know their new friends and feel more comfortable with each other.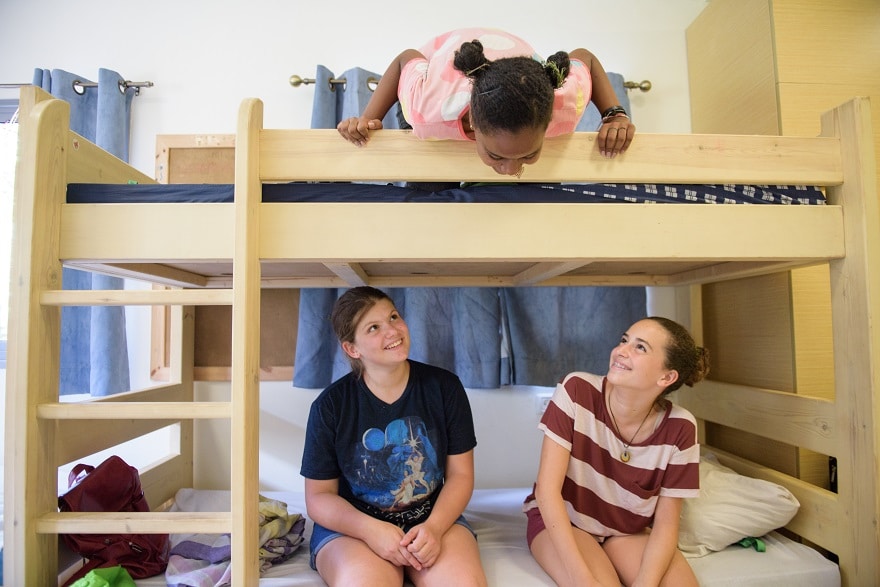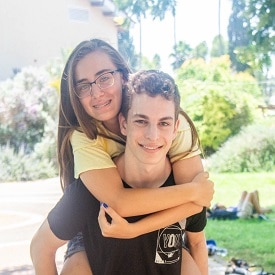 Jeff came back home yesterday and now in an unstoppable mode talking about the friends and interesting things of camp. He loved everyone and started missing you all:-)
Thank you all for taking good care of him and a special thanks to the group and workshop counselors who always kept me updated, hope to see you guys all again next summer.
Anna, Jeff's mom
About Camp:
Common Grounds

Everyone coming to BIG IDEA want to do something interesting and valuable during their vacation.

You won't believe how much you have in common with children that grew up on the other side of the world! The friendships you will form will be very empowering and mind-opening, as we celebrate the differences and diversity in our camp.

Say goodbye to your cellphone!
Yes, you're not mistaken – our camp is phone-free!

A big part of the BIG IDEA experience is to develop independence skills. Taking phones away creates priceless social interactions. By removing this distraction, we allow children to truly connect with each other. Those friendship last a lifetime!


What Interests You?

You choose – 3d modeling and photography, programming and Minecraft, or Theater and Hip-hop. Upgrade your skills with one of 3 professional workshop tracks. By the end of camp, you'll have created amazing projects using all the new experience & knowledge that you gained.

discover your passions, we believe that if you can dream it, you can do it!

When they're not being criticized and graded, children are free to express their true selves, think big, take chances – and succeed!
You can count on us that by the end of camp you'll be inspired to continue developing your new skills by working on new projects!



Start-Up Nation

Everyone already knows the success story of the Israeli hi-tech industry. It's time to get to know it from up close!
We go on fascinating tours in the most advanced technology centers in Israel and meet with start-up entrepreneurs that come to camp to tell about their personal success stories and of their unique developments.

Special Events

There are many dance parties, a bonfire, a LAN party with game consoles and giant screens, an international talent show, where each camper can go on stage and perform and SO much more ;)


MAX Program:

BIG IDEA's Max program is a unique overnight experience in Israel for children and teens, ages 7 to 18, diagnosed with high-functioning autism, Asperger syndrome or PDD.
*The number of campers for this programe is limited, make sure to reserve your spot for camp!
For more information and details >> [email protected]

#FAQ
Everything sounds great! Now what?