BIG@Home & Stroum JCC Online Tech Camps

Experience the magic of BIG IDEA at home.

Join our Online Tech Camps today!
Staying at home? Use this time to acquire a new toolbox for life.
Discover your passions at the BIG IDEA workshops, and get motivated to keep exploring.
A daily routine, full of fascinating and empowering content – 3 hours every day, over 5 consecutive days.
Connect with new friends: the perfect balance between fun activities and eye-opening workshops. Your group will help you keep a healthy smile on your face.
Develop your tech skills and be creative in a track of your choice. Each track includes two different workshops.
Hands-on activities and immediate feedback: nothing is recorded. The BIG@Home video platform is completely LIVE and interactive, with up to 6 campers per group.
Our enthusiastic Israeli instructors will make every camp-day an opportunity to unleash your creativity and excel.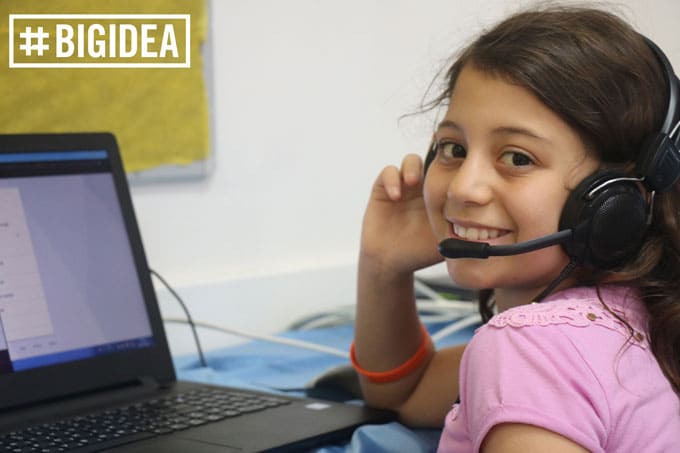 "The camp made my child so happy during this time of uncertainty. He developed new skills, felt empowered, and gave us some needed quiet time at home."
Be a part of something BIG – from home!
We know that staying home all day is a challenge for both parents and children. BIG@Home helps you through this time with an inspiring program for kids from 3rd to 7th grade.
Parents are way more productive working from home, when the kids "go" to BIG@Home camp every day.
Choose your weekly track:
Track 1: Digital Design + Build Your Website.

Track 2: Animation + Video Editing for Youtube.

Additional tracks will be added soon.
Choose your preferred camp hours:
East coast round:
3:30-6:30pm EST / 12:30-3:30pm PST
West coast round:
7:00-10:00pm EST / 4:00-7:00pm PST
Groups are set by age, and you may request to be grouped together with friends.
The most amazing instructors are here for you.
We are proud of being able to hire the most amazing counselors: over 500 students and young professionals, passionate for tech & creativity. Now, they are dedicating themselves to the growth and development of your child from home.
With a dedicated instructor for a group of 5-6 campers, we give each and every child the attention they need for a meaningful experience.

Each division of counselors is supervised in real-time by BIG IDEA's educational coordinators, to ensure the camp meets our guidelines and excellent standards.

The BIG@Home team also provides parent assistance and tech support.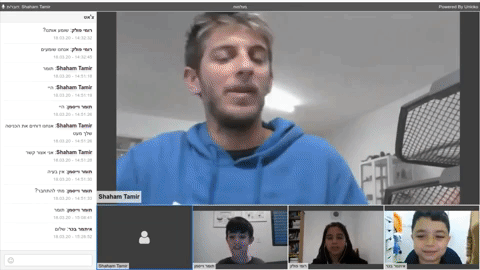 "My son has enjoyed it so much! I heard him laughing and interacting with the other campers. Even just for that social interaction it was worth joining."
Registration and Tuition
BIG IDEA's online Tech-Camp turns your child's time at home into an unforgettable opportunity, full of skill development, creativity and personal growth.
Each session includes 5 days of LIVE 3 hours every day.
Join over 10,000 BIG IDEA campers who designed their future over the past 12 years.
BIG IDEA is trusted by the biggest tech corporates. We run on-site and online camps for employees' children at Intel, Microsoft, Facebook, IBM, Amdocs and more.
BIG@Home standard tuition is $349 per session.
BIG IDEA & Stroum Jewish Community Center give you $75 off tuition for a limited time:
Use code seattlejcc75 on the check-out page.
Next sessions:
Mon.-Fri. April 27 – May 1

Mon.-Fri. May 4 – May 8
Registration for the next session ends:
April 22

, at 11pm EST / 8pm PST
* Spots are limited!
* Free cancellation up to 48 hours before the session starts. Read Terms and conditions.
FAQ - BIG@Home
Workshops
Campers will be assigned to groups based on content and age, with each group having a designated track. Every day throughout the week, campers will enjoy the two workshops included in their track. Our workshops inspire campers' creativity, develop their skills for the future, and encourage curiosity and cooperation. Each and every camper will produce their own personal project that they'll work on during the week. They'll even be able to present it to their parents at the end of the session. Workshops are conducted in small groups so that we can fit the pace to our campers.
What does a typical day look like?
Everyday, campers will meet for 3 hours: 
20-30 minutes: Ice breakers and a fun social activity

1 hour: First tech workshop

15 minutes: Break

1 hour: Second tech workshop

30 minutes (optional): Q&A time with the counselor 
At BIG IDEA, we make it our top priority to maintain a professional and creative environment that allows each and every camper to fulfill their potential. 
What are the hours of camp?
Each camper will choose to be part of either an afternoon or evening session.
Afternoon sessions are from 3-7 pm EST/ 12-3 pm PST and evening sessions are from 6:30-9:30 pm EST/ 3:30-6:30 pm PST.
How does it work?
Two days before the opening of your session, you will receive an email with all of the instructions and a tutorial video. The camp will run using an Israeli platform called UNICKO. You will receive a link to this virtual lab, where you will join all of your new friends and see them through a virtual camera.
Technical requirements:
A computer with Windows operating system, webcam & microphone. Or a laptop that has a camera and microphone built-in.  ֿֿThe Graphic Design Track is compatible with the Mac operating system as well. 
What can I do if I have a technical problem or question?
Don't worry! You will receive the contact info of our technical support team who can help you during real-time.
Your counselor will also be able to see your screen and help you at any stage. 
Location
You will join our workshops from the comfort and safety of your home, using your computer. BIG IDEA will provide you with designated software for our camp's remote learning.
Who are the counselors?
Our team is made up of top-notch counselors! All of our counselors are highly-qualified and over 18, with years of background and experience in instructing and working with kids. During our staff training, we place an emphasis on personal empowerment, morals and values, and our recipe for creating a positive and good environment. Our program coordinator will also be available to speak with you."
The online camp was great, I wish my counselor Shaham would replace my teacher all year long." Guy, 10 years old.
I have more questions about BIG@Home
Ask your parents to contact one of our team members, who will happily assist you so that you can get the most out of your camp experience. Please contact us via email: online-en@bigidea.co.il
Ask us anything.
Fill the form and we will contact you as soon as possible