BIG IDEA
At the BIG IDEA summer camps we believe that we need to invest in children and teens from Israel and abroad and give them the tools to develop their technological, creative and social skills.
We do that by creating a community and a family that connects kids and teens from different countries, different languages and many different fields of interest. We also expose our teens to the success story of the Israeli high-tech industry and to the newest technologies.
Professionalism is one of our most important values! With an experienced and professional team specializing in international summer camps and very high standards, we know that each camper in BIG IDEA will have an enriching and empowering educational experience that they will never forget.
Our Vision
To foster a curious generation that loves to explore and think, to provide each and every one with the tools to fulfill his and her potential and to be a source for big ideas that generate change, with community, multiculturalism and Israeli innovation as its core values.
Skillful Staff
We select only excellent counselors! Our staff members are from Israel and many other countries around the world. The counselors lead the tech and media workshops during the day and the social age groups in the afternoon and evening. We have a great ratio of 1 staff member for every 5 campers, so we can give each and every child personal attention and a meaningful experience.
All our counselors are 18 years old or older. Our staff members are college students or graduates and alumni of tech units in the IDF that come from Israel and abroad. They have a rich experience working with kids and teens at summer camps and other educational programs. Our staff goes through a long and detailed recruitment and orientation process.
In addition to our amazing counselors, you'll meet the unit heads, who are responsible for the educational programs, our tech team, that supervises the workshops and the computer network, the camp medic, logistics team, and the documentation team that takes photos and videos at camp everyday, so the parents can stay in touch and feel the excitement!
10,000
CAMPERS

Had an amazing summer

3,000
CAMP DAYS

We are getting BIGGER
every year

15
Years

Leading
Technological Education
The Team
Idani Saada
Camp Director
Idani has lots of experience working with children and youth – his specialty is developing educational programs for summer camps around the world.
Idani runs the BIG IDEA summer camps in Israel & during the year he makes sure everything is perfect: Staff, Activities & mainly the campers unforgettable experience!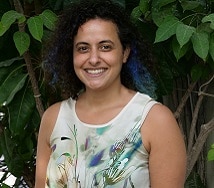 Liz Kahlon
Asistant Camp Director
Liz is holding a BA Democratic Education & Social Buisnesses.
Aside from great energies, Liz already managed to found a youth center in Tel-Aviv, lead social hackaton and social job fairs.
At BIG IDEA you can find Liz leading the technical and logisital aspects of camp.
Hadar Sadeh
High-tech Summer Camp Manager
Hader started in our online camps, and climbed her way to managing our hi-tech companies programs. She's responsible for preparing and operating camps and other programs for children of hi-tech companies' employees, in camp, office, and online.
Hadar is a student at Bar Ilan University. In her free time she volunteers at "she codes;" promoting coding skills for female youth, and with "First Aid for Holocaust Survivors".
Yuval Shabi
Parents Relations Manager
Yuval has been part of BIG IDEA for 3 years. She was a counselor in summer camps abroad, worked in day camps in Israel and today works as a teacher. Yuval has a B.A in education and art and in camp she is running the parents service office. Those who have already enrolled for the summer know that Yuval is here to help and to answer all the questions you have.
Matan Fishlovich
Director of Enrollment
Matan has connections with jewish centers around the world: Germany, Cyprus, South Africa and more. It's already been 4 years that Matan is our director of enrollment and until today he makes contact with jewish communities in diaspora and in Israel.
Dotan Tamir
CEO & Founder
Dotan's passion to technology and education became clear at a very young age.
He learned to code at elementary school and by the time he got to high-school he was already leading various types of computer workshops and day camp to younger children.
Dotan's served in a technological unit of the israeli inteligence corps and later joined an international start-up.
During 2007 Dotan founded a technological and international camp in Israel, contiued to found BIG IDEA at 2013.
Erez Roll
Chairman of BIG IDEA
Erez is Chairman at " Big Idea In Education" and at "Clickto". At 1985 He founded "Lafayette", the leading Israeli distributor of branded toys such as : "Disney" "Marvel" "spiderman" "Power Rangers" and more.
As an entrepreneur, Erez has utilized his expertise in youth focused marketing and established first eCommerce toys platform in Israel for kids.
Erez sits on the board of educational non-profits including Variety, Nahar Hayarden, and Bialik Rogozin
He holds an MBA in Business.